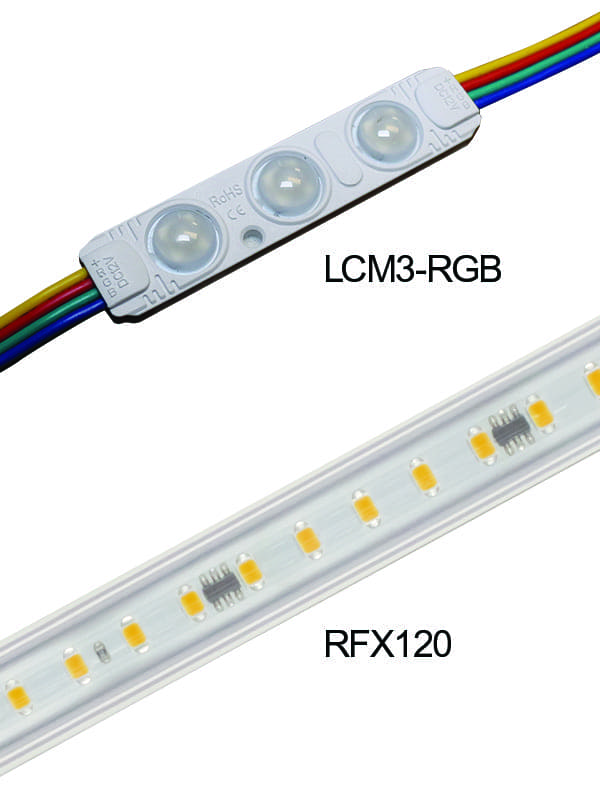 "At
Barron Lighting Group
, we are committed to expanding our family of lighting solutions in order to meet the evolving needs of our customers as well as the market. We are excited to introduce our new cove lighting, back lighting and accent lighting solutions to our
specialtyLED
brand: the RFX120 and the LCM3-RGB," said Heather McCune, Vice President, Sales Operations of Barron Lighting Group.
The LCM3-RGB Series LED channel letter modules are encapsulated in a thermoplastic molded housing. The LCM3-RGB utilizes three RGB LEDs per module, offering high performance yet low operating costs for commercial signage applications. These modules can be easily manipulated, mounted on any surface and require no maintenance. The LED modules are supplied in a string of up to 20 modules that can be individually cut based on customer needs.
The RFX120 is a 120VAC indoor LED ribbon flex that is an economical and versatile solution for LED linear lighting needs and is available with multiple lumen outputs, wattages, efficacies and CCTs. specialtyLED's RFX120 is extremely flexible and low profile and does not require any external power supply, making it perfect for many different small or restricted locations. Mounting accessories are available for easy installation.
For more information about the LCM3-RGB:
https://bit.ly/2MEhKR4
For more information about the RFX120:
https://bit.ly/2BwqAKx
About Barron Lighting Group
Barron Lighting Group
, based out of Glendale, Arizona, manufactures a comprehensive line of lighting fixtures and solutions for commercial and industrial applications and is the parent company to four brands:
Exitronix
life-safety and emergency lighting,
Trace-Lite
indoor and outdoor commercial and industrial lighting,
specialtyLED
commercial and decorative lighting, and
Growlite
indoor and greenhouse horticultural lighting.
For more information, visit
barronltg.com
.
Media Contact
Megan Zelko | Marketing Communications Manager
Barron Lighting Group
(623) 282-9911
megan.zelko@barronltg.com