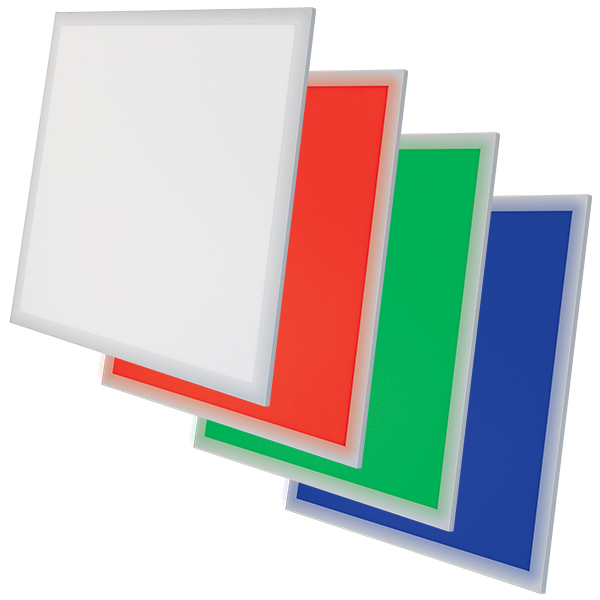 specialtyLED's
RGBWFP22 panel features an extremely thin design which provides even illumination across the entire panel with no visible hot spots or shadows. The included RGB controller easily switches and controls the colors of up to four units, while the STICK-KE2 accessory allows for the colors on up to six units on the same address to be customized and controlled. The white LEDs are tuneable from 2800K - 6500K. Unlike standard solid white LED flat panels, color-changing panels have a wide variety of installation options including setting a mood in a restaurant or school, adding rolling color in a coffee shop, or being a colorful backdrop in a bar.
"At
Barron Lighting Group
we continue to push the boundaries of our product capabilities, expanding our LED flat panel offering to include the RGBWFP22 Series. CE Listed, the RGBWFP22 features a color-changing component and the ability to tune specific white CCTs, making these colorful panels extremely versatile. Their uses are only limited by your imagination," said Heather McCune, Vice President, Sales Operations of
Barron Lighting Group
.
For more information about the RGBWFP22 Series -
https://bit.ly/3kl49M1
About Barron Lighting Group
Barron Lighting Group
, based out of Glendale, Arizona, manufactures a comprehensive line of lighting fixtures and solutions for commercial and industrial applications and is the parent company to four brands:
Exitronix
life-safety and emergency lighting,
Trace-Lite
indoor and outdoor commercial and industrial lighting,
specialtyLED
commercial and decorative lighting, and
Growlite
indoor and greenhouse horticultural lighting.
For more information, visit
barronltg.com
.
Media Contact
Megan Zelko | Marketing Communications Manager
Barron Lighting Group
(623) 282-9911
megan.zelko@barronltg.com