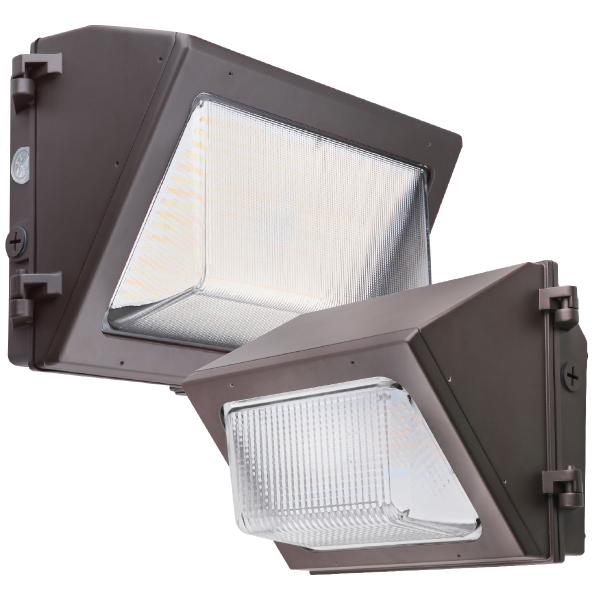 The RWE Series features a glass refractor and an updated light engine that offers higher lumen outputs and improved thermal management while maintaining the design of our traditional housing. The RWE is available in two sizes and features field-selectable power in 29, 40, and 60 watts in the small and medium unit or 60, 100 or 120 watts in the medium unit. With outputs from 3,900 lumens up to 16,200 lumens, plus field-selectable color temperatures, the RWE Series is the perfect choice for project flexibility. The RWE is DesignLights® Consortium Preminum Qualified, and offers efficacies up to one hundred forty-six lumens per watt.
The RWE is constructed of die-cast aluminum with a bronze powder coated finish and features a prismatic borosilicate glass refractor. The light engine includes a 0- 10 volt dimming driver and 4 KVA surge protection. The RWE also includes built in photocontrol for maximum project flexibility. Integral battery backup option and sensor accessories are also available.

"The RWE Series is the next evolution of the traditional wallpack, and it's flexible design provides maximum value in a cost-effective lighting solution." said Claudia Campeau, Director of Trace-Lite Products for Barron Lighting Group 

About Barron Lighting Group

Barron Lighting Group, based out of Glendale, Arizona, manufactures a comprehensive line of lighting fixtures and solutions for commercial and industrial applications and powers four brands: Exitronix life-safety and emergency lighting, Trace-Lite indoor and outdoor commercial and industrial lighting, specialtyLED commercial and decorative lighting, and Growlite indoor and greenhouse horticultural lighting.
For more information, visit barronltg.com.

Media Contact
Keith Christensen | Marketing Brand Manager
Barron Lighting Group
(623) 580-3948
keith.christensen@barronltg.com