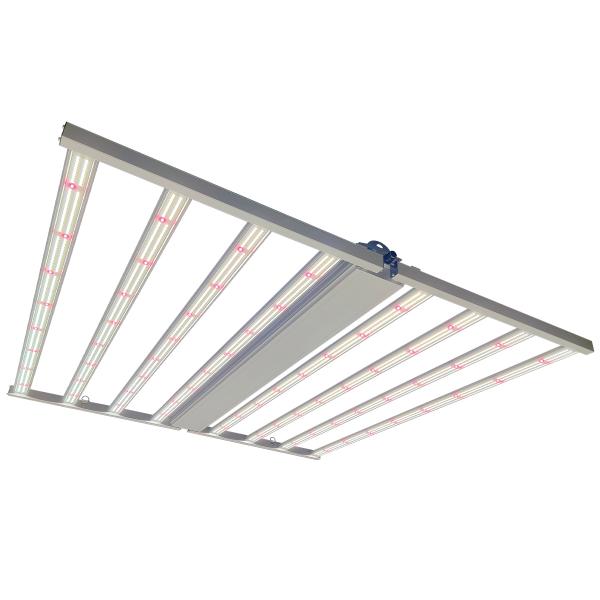 "The newest addition to our
Growlite
product family, the FULGENT LED has been designed with horticulture grows in mind. FULGENT LED boasts a high-intensity PPF total output of 1,768 µmol/s and system efficacy of 2.5 µmol/J for high-yielding crops. UL Listed and IP65 Rated, the FULGENT features a foldable design making it the ideal lighting solution for various indoor cultivation applications with a coverage area of up to 4' x 4'," said Heather McCune, Vice President, Sales Operations of
Barron Lighting Group
.
The 720W FULGENT LED 8 bar grow light is a high-performance, low-profile, energy-efficient horticulture LED fixture. Ideal for indoor cultivation over benches, multi-level vertical racks and grow tents. FULGENT LED features built-in drivers, Samsung and OSRAM LEDs for optimum efficiency, reliability and high-end performance. A well-balanced red-to-blue full-spectrum provides deep canopy penetration and high-quality yields for cannabis, food, and floriculture harvests.
For more information about the FULGENT LED, visit https://bit.ly/3tuinCC.
About Barron Lighting Group
Barron Lighting Group, based out of Glendale, Arizona, manufactures a comprehensive line of lighting fixtures and solutions for commercial and industrial applications and powers four brands: Exitronix life-safety and emergency lighting, Trace-Lite indoor and outdoor commercial and industrial lighting, specialtyLED commercial and decorative lighting, and Growlite indoor and greenhouse horticultural lighting.
For more information, visit barronltg.com.
Media ContactMegan Zelko | Marketing Communications Manager
Barron Lighting Group
(623) 282-9911 | megan.zelko@barronltg.com