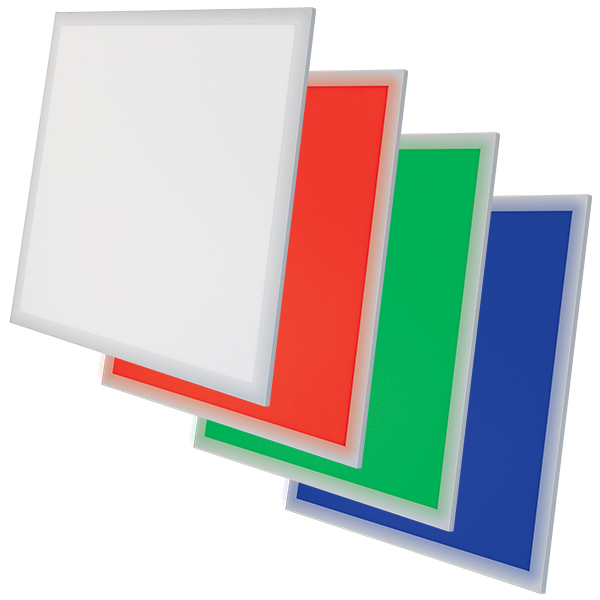 "
Barron Lighting Group's
RGBWFP Series was designed to be a colorful and impactful decorative lighting solution for our customers. This enhanced family of RGB and tuneable white LED flat panels is now available in three sizes – 1' x 4', 2' x 2' and 2' x 4' – and includes a handheld RGB controller, allowing for up to six units to be controlled simultaneously," said Heather McCune, Vice President, Sales Operations of
Barron Lighting Group
.
specialtyLED's RGBWFP panel features an extremely thin design which provides even illumination across the entire panel with no visible hot spots or shadows. Unlike standard solid white LED flat panels, color-changing panels have a wide variety of installation options including setting a mood in a restaurant or school, adding rolling color in a coffee shop, or being a colorful backdrop in a bar. The RGBWFP features 36W for the 1' x 4' and 2' x 2' panels, and 60W for the 2' x 4' panel. The RGBWFP is ETL Listed, CE Listed and comes with a five year warranty.
For more information about the RGBWFP Series, visit https://bit.ly/3z1dMHY.
About Barron Lighting GroupBarron Lighting Group, based out of Glendale, Arizona, manufactures a comprehensive line of lighting fixtures and solutions for commercial and industrial applications and powers four brands: Exitronix life-safety and emergency lighting, Trace-Lite indoor and outdoor commercial and industrial lighting, specialtyLED commercial and decorative lighting, and Growlite indoor and greenhouse horticultural lighting.
For more information, visit barronltg.com.

Media Contact
Megan Zelko | Marketing Communications Manager
Barron Lighting Group
(623) 282-9911
megan.zelko@barronltg.com