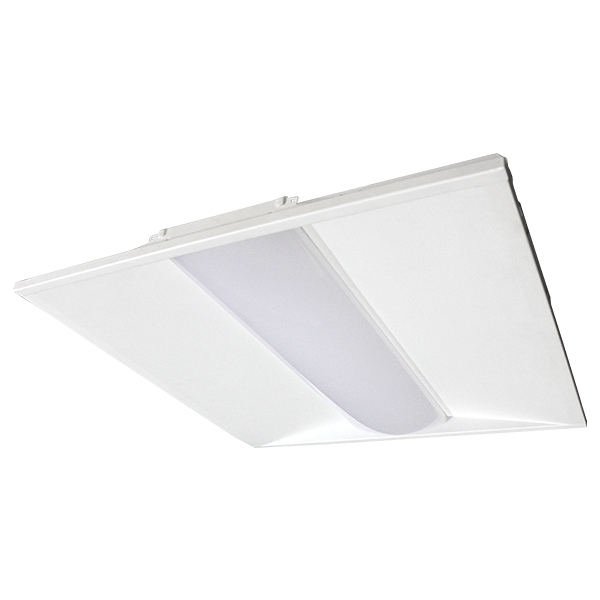 "At Barron Lighting Group, we are excited to provide our customers with the CBLS Series - our new DesignLights Consortium® PREMIUM Qualified and cETL Listed color and power switchable LED center basket. The CBLS features a UV-stabilized polycarbonate diffused lens that provides a 120° light distribution and can also be removed for maintenance. The CBLS is available with a factory installed battery backup option as well as optional surface mount, flange mount and cable suspension mount kits," said Heather McCune, Vice President, Sales Operations of Barron Lighting Group.
Trace-Lite's CBLS Series of switchable LED center basket luminaire offers incredible performance in an energy-efficient, slim profile steel enclosure. Available in 2' x 2' and 2' x 4' configurations, it offers up to 128 LPW to maximize energy savings and utility rebates. The unit provides ultimate flexibility while minimizing inventory by simply adjusting both CCT and wattage. The color temperature can easily be switched between 3500K, 4000K and 5000K. The 2' x 2' configuration can be adjusted between 24W and 36W and the 2' x 4' configuration can be adjusted between 36W, 42W and 50W. The CBLS is designed to deliver general ambient lighting in a variety of indoor settings, and is the perfect choice for both new construction and retrofits.
For more information about the CBLS -
https://bit.ly/2HNeMtL
About Barron Lighting Group
Barron Lighting Group
, based out of Glendale, Arizona, manufactures a comprehensive line of lighting fixtures and solutions for commercial and industrial applications and is the parent company to four brands:
Exitronix
life-safety and emergency lighting,
Trace-Lite
indoor and outdoor commercial and industrial lighting,
specialtyLED
commercial and decorative lighting, and
Growlite
indoor and greenhouse horticultural lighting.
For more information, visit
barronltg.com
.
Media Contact
Megan Zelko | Marketing Communications Manager
Barron Lighting Group
(623) 282-9911
megan.zelko@barronltg.com